The International Forum on Lifelong Integrated Education, organized every four years since the Second Forum held for the first time at the UNESCO Headquarters in 1978, a year after the First in Tokyo in 1977, marked the 10th in 2010.
To celebrate the occasion, the 10th Commemorative International Forum on Lifelong Integrated Education was held under the theme "Lifelong Integrated Education as a Creator of the Future - Human Restoration of the 21st Century" for the three days from the 8th to 10th of November at the UNESCO Headquarters in Paris.
Almost every international forum since the fourth, Institut national de la jeunesse et de l'éducation populaire (Injep) in Marly-le-Roi, a Paris suburb, has been a venue for the second and third days of the forum. However the institute's part of conference and accommodation facilities was closed recently. As a result, the 10th Forum was held at the UNESCO Headquarters for the whole three days for the first time in 32 years since the Second Forum.
This forum is the second international forum organized under the leadership of Director General Yumiko Kaneko after the demise of our Founding Director General, Mrs. Yoshiko Nomura, and becomes a significant milestone to count the 10th one. Consequently the Forum received 170 participants on the first day and the total 457 from 39 countries and regions, and represented a great step forward in terms of both scale and content in the history of our international forums.
The conference was conducted with simultaneous interpretations in five languages of Japanese, English, French, Arabic and Spanish.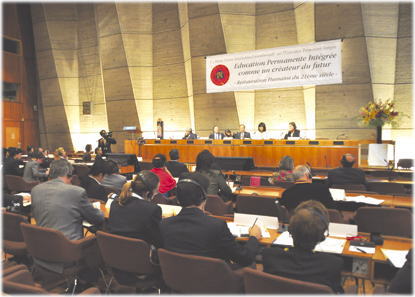 First Day - Opening Ceremony
Room II at the UNESCO Headquarters