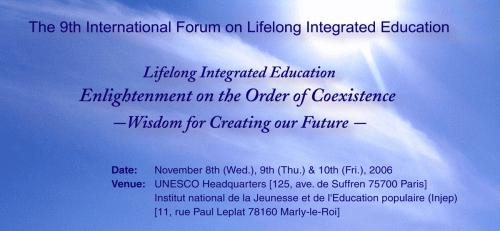 The 9th International Forum on Lifelong Integrated Education, supported by UNESCO, OECD, Ministry of Foreign Affairs and Ministry of Education, Sports, Science, Culture and Technology of Japan, was held over three days from Wednesday, November 8th to Friday, November 10th 2006 under the theme of Lifelong Integrated Education Enlightenment on the Order of Coexistence - Wisdom for Creating Our Future -.

Day One of the Forum took place at Room II of the Paris Headquarters of UNESCO, while Days Two and Three were convened at Injep, L'Institut national de la Jeunesse et de l'Education populaire (the French National Institute for Youth and Community Education) in the Paris suburb of Marly-le-Roi.
The Forum was attended by over 179 participants from 35 countries and regions around the world with representatives from international organizations such as UNESCO Headquarters and the OECD, as well as government institutions, research organizations such as education research institutes, higher education institutions and private sector bodies.

This was the first forum to be held since Mrs. Yumiko Kaneko took up the directorship after the passing of the Founding Director General Mrs. Yoshiko Nomura in November 2003. It was a highly significant event in that it represented the first step towards a new history written by the generation about which Mrs. Nomura cared so deeply, a generation that has succeeded to her legacy and which has been awakened to the "Dignity of Humans".

Participants from all corners of the globe gathered and engaged in intense discussions in search of the "Order of Coexistence" as described in the Nomura Principles of Lifelong Integrated Education, and a path from "Co-extinction" to "Co-existence" amid the current pervasive inability to predict the future of this planet and humankind.



Day One: Keynote Address
by D. G. Yumiko Kaneko
UNESCO Headquarters, Paris