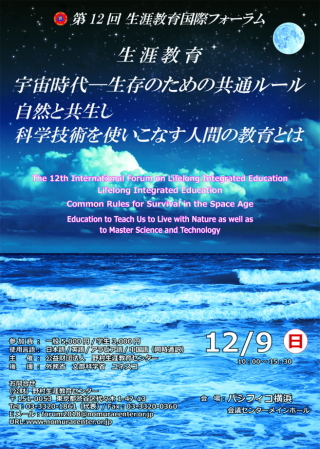 Date
December 9th, 2018 (Sun.) 10:00-15:30
Venue
Conference Center Main Hall, PACIFICO Yokohama
(Minato Mirai 1-1-1, Nishi-ku, Yokohama 220-0012)
Participation
Fee
Adult ¥5,000 / Student ¥3,000
Languages
Japanese / English / Arabic / Chinese
[Simultaneous Interpretation is provided]
Organizer
Nomura Center for Lifelong Integrated Education
Moral
Support
Ministry of Foreign Affairs of Japan
Ministry of Education, Culture, Sports, Science and Technology-Japan
UNESCO
The 12th International Forum on Lifelong Integrated Education was held for five days from Sunday, December 9, to Thursday, December 13, at Conference Center Main Hall, PACIFICO Yokohama, and Elizabeth Rose Conference Hall, United Nations University.
Using the new format initiated at the previous forum, with a public forum on the first day followed by the four-day Intensive Seminar on Nomura Lifelong Integrated Education mainly for overseas participants. 1,130 participants from all walks of life from 17 countries and region attended the first day and think together about our responsibility at the backdrop of this age we are living in under the theme "Lifelong Integrated Education Common Rules for Survival in the Space Age Education to Teach Us to Live with Nature as well as to Master Science and Technology".
Among them were 26 infants and 30 children, including one elementary school child from India, spent the day with their own program.