Lifelong Integrated Education
The Space Age – Awakening to the Unchangeable Values
Our Responsibility to the Future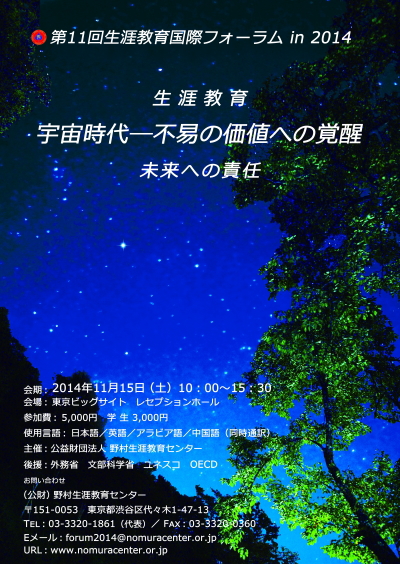 Date
November 15th, 2014 (Sat.) 10:00-15:30
Venue
Tokyo Big Sight / Reception Hall (Ariake 3-11-1, Koto-ku, Tokyo)
Participation Fee
Adult ¥5,000 / Student ¥3,000
Languages
Japanese / English / Arabic / Chinese
[Simultaneous Interpretation is provided]
Organizer
Nomura Center for Lifelong Integrated Education
Moral Support
Ministry of Foreign Affairs of Japan
Ministry of Education, Culture, Sports, Science and Technology-Japan
UNESCO
OECD
"The 11th International Forum on Lifelong Integrated Education 2014" took place on Saturday, November 15th, at Tokyo Big Sight Reception Hall in Ariake, Tokyo, marking a new step forward in the history of our International Forum.
This forum was held in Tokyo for the first time in 16 years since the 7th International Forum in 1998, inviting 30 international participants from 17 countries including members of our overseas branches and from every region of Japan, the total of 1,229 were gathered.
Throughout the day participants seriously engaged in the theme of "Lifelong Integrated Education The Space Age––Awakening to the Unchangeable Values Our Responsibility to the Future", to think about the future of education in order for us to leave our children the better future.
Alongside the main program, 22 children and 44 infants participated in program specially designed for them.