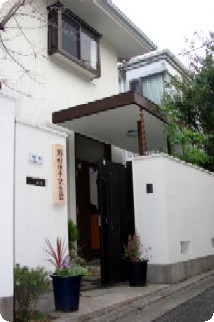 The Yoshiko Nomura Memorial Museum built on the site of her residence in Meguro, Tokyo, and the Shibakawa-an, a cottage, in Shibakawa-cho, Shizuoka Prefecture have been completed. Both structures were planned to commemorate the third anniversary of the passing of our founding Director General Mrs. Yoshiko Nomura.
After Mrs. Nomura passed away in November 2003, her relatives kindly donated to Nomura Center the private residence in which she had lived for many years with her husband Tetsuo who passed away in April of 2002. Mr. Tetsuo Nomura was an educator who had supported Mrs. Nomura's activities for many years and shared joys and sorrows with her. The Center, wishing to honor the illustrious memory of Mr. and Mrs. Nomura and pass on their heritage to many generations to come, decided to open their private residence to the public as the Yoshiko Nomura Memorial Museum.
The interior of the building was renovated and a memorial museum built to display items associated with the couple's lives. The museum was opened to the public on January 25 of this year.
The couple's book collection was housed in the study that Mrs. Nomura had used during her life. Mrs. Nomura had entertained overseas guests by preparing tea in the traditional way in their tea room. A display room now exhibits her original writings and a resume of her speeches.
Exhibits contain the distillation of many memories collected at intervals over a long career: a statue of Hariti (Child and Lotus Sutra guardian deity), the symbol of motherhood that Mrs. Nomura had commissioned to be sculpted by the master Shinkan Nishikido, a replica of the correspondence box that contained a personal letter sent by Masamune Date (Lord of the domain of Sendai) to the Pope Paul V in 16th century, which became the motif for the front cover of Mrs. Nomura's book "Lifelong Integrated Education by Populace Initiative in the History of Education - 26-year History of Nomura Lifelong Integrated Education", and many kinds of Arita porcelain with sketches of plants and flowers drawn by Mrs. Nomura in her youth. There is also a room which enables visitors to recall her image in the past through a video presentation.

Days & Hours :
11:00 am to 3:00 pm, Wednesdays
Exhibition is only in Japanese.
Please contact the head office prior to your visit in case you need an interpreter.

Admission :
Free
Address :
Higashiyama 1-27-5, Meguro-ku, Tokyo