Tohoku@Regional Conference on Lifelong Integrated Education

Saturday July 23, 2005


Venue
Sendai City Taihaku Ward Cultural Center
<Ra Ra Ra Hall>

Organized by
Nomura Center for Lifelong Integrated Education
Tohoku block of Nomura Center (Miyagi and Yamagata Branches, and Fukushima Chapter)

Supported by
The Boards of Education of Miyagi, Yamagata, Fukushima, Aomori, Akita and Iwate Prefectures
The Board of Education of Sendai City
NHK Sendai Station
Sendai Bureau, The Asahi Shimbun
Sendai Bureau, The Mainichi Newspapers
The Kahoku Shimpo
The Yamagata Shimbun


Programme
M.C. Mrs Mitsuko Nagasawa
Opening
Opening Address
Mrs Emiko Ogura
Congratulatory Addresses
Mr Akira Shiraishi
Superintendent
Miyagi Prefectural Board of Education
Ms Emiko Okuyama
Superintendent
Sendai City Municipal Board of Education

Video film
History of Nomura Center for Lifelong Integrated Education
Personal reports on practicing
The Principles of Nomura Lifelong Integrated Education
Raising children is raising parents
Mrs Miki Higuchi
Encountering the true education
Mrs Kieko Nagai
Restoration of the marital bond
Mrs Keiko Handa
Aiming for the betterment of corporate environment for living human beings
Mr Masafusa Sakurai
Keynote Address

Theme
Lifelong Integrated Education
Considering the Present Society Where the Humanity is Lost
- What is a human being, what does it mean to live -


Mrs Yumiko Kaneko
Director General, Nomura Center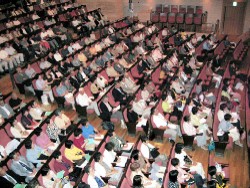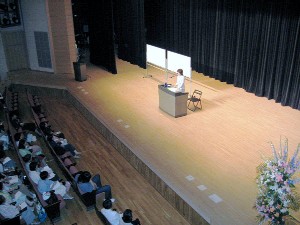 Question and Answer
Closing Address
Mrs Yoshiko Ishijima
Closing
This conference is the first conference to be held under the leadership of our new Director General Yumiko Kaneko and represents an abiding desire to respect the wishes of our founding Director General, Mrs Yoshiko Nomura, who had ended the series of National Conferences on Lifelong Integrated Education, which started in 1970 and continued up to the International Forum '98 in 1998, after completing the series with its thirtieth conference to give incentives to respective regions to take initiative to promote educational reform.
This conference was also the first the Center had hosted in the Tohoku region and members of the various Tohoku branches and chapters, including Hokkaido, undertook critical self-examination while energetically calling for conference participation with the assistance from the Center's headquarters and other regions. Their efforts brought the presence of some 500 people in the conference hall on the day.
On this day the Children and Infant Division spent an enjoyable day holding a separate programme in parallel with the main conference.
Keynote Address and Q&A Session by D. G. Kaneko and four Personal Reports are reported in our English organ "Nomura Center News No.37". (200 Japanese Yen/copy)