The 6th Shizuoka Regional Conference on Lifelong Integrated Education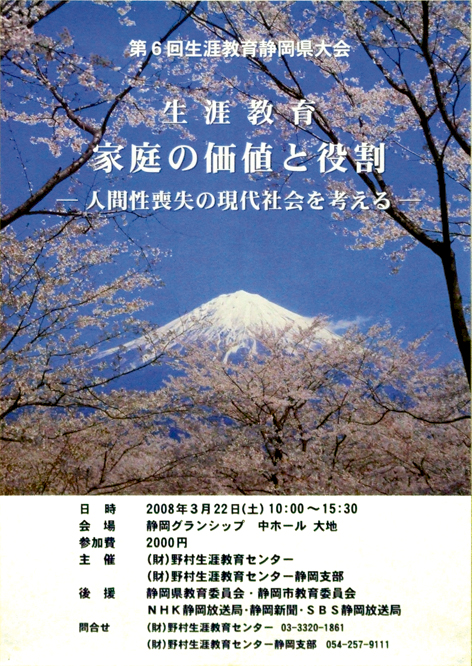 Lifelong Integrated Education
The Value and Role of Family
-Considering the Present Society Where the Humanity is Lost-



Saturday, March 22, 2008


Venue
Shizuoka Convention & Arts Center "GRANSHIP"
Medium Hall - Earth
Organized by
Nomura Center for Lifelong Integrated Education
Shizuoka Branch of Nomura Center for Lifelong Integrated Education
Supported by
Shizuoka Prefectural Board of Education, Board of Education of Shizuoka City, Shizuoka Station, The Shizuoka Shimbun, Shizuoka Broadcasting System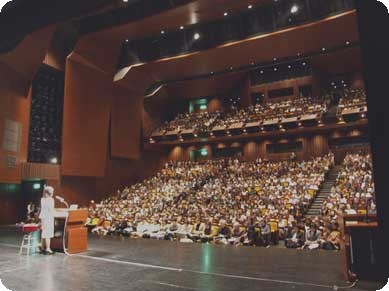 Programme
Moderator Mrs. Suzuyo Yabusaki
Opening
Opening Remarks
Mrs. Hisako Koya
Congratulatory Addresses
Mr. Ryohei Endo
Superintendent
Shizuoka Prefectural Board of Education
Mr. Mitsuhiro Saijyo
Superintendent
Shizuoka Municipal Board of Education
Video film
"Founder Yoshiko Nomura"
Personal Reports on Practicing
the Principles of Nomura Lifelong Integrated Education
Viewpoint of infant education
Mrs. Yuko Suzuki
Viewpoint of a youth
Mrs. Asuka Tomoda
Viewpoint of a family
Mrs. Keiko Ishii
Viewpoint of business circles
Mr. Akira Kashiwagi
Keynote Address

Theme
Lifelong Integrated Education
The Value and Role of Family
-Considering the Present Society Where the Humanity is Lost-


Mrs. Yumiko Kaneko
Director General
Question & Answer Session
Closing Remarks
Mrs. Naomi Kato
Closing
On March 22, (Sat.), 2008, the "6th Shizuoka Regional Conference on Lifelong Integrated Education" was held in Shizuoka City at the Shizuoka Granship.
The overarching theme was "Lifelong Integrated Education: The Value and Role of Family -Considering the Present Society Where the Humanity is Lost."
Shizuoka Prefecture is the birthplace of the Founding Director General Mrs. Yoshiko Nomura and also of her husband Mr. Tetsuo Nomura. It is a place with deep tie to the birth of the book The Principles of Nomura Lifelong Integrated Education, which forms the basis for all the activities of the Center.
The Shizuoka Branch had its First Regional Conference in 1976 and between 1982 and 1985, the 2nd to the 5th conferences. And now 23 years later, under the guidance of Director General Mrs. Yumiko Kaneko, the 6th Regional Conference, the first regional conference organized by the Shizuoka Branch in which the majority of members represented the postwar generation, was held.
On that day greetings were presented by Mr. Ryohei Endo, Superintendent of the Shizuoka Prefectural Board of Education and by Mr. Mitsuhiro Saijo, Superintendent of the Shizuoka Municipal Board of Education. The meeting hall was filled with approximately 1200 participants from various spheres of society including heads of boards of education from various cities and towns, elected members of prefectural, city and town assemblies, mayors of towns and cities, and members of the Diet.
Keynote Address and Q&A Session by D. G. Kaneko and four Personal Reports are reported in our English organ "Nomura Center News No.49".