The 1st Saitama Regional Conference on Lifelong Integrated Education
Lifelong Integrated Education
Education for People Living in the Global Society
--Creating the New Values--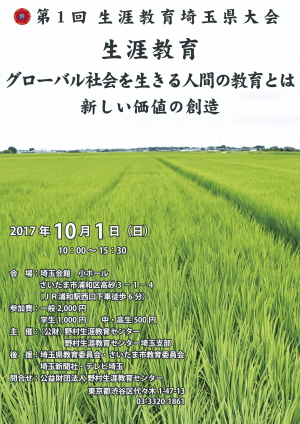 The poster of the Conference


Sunday, October 1, 2017


Venue
Saitama Hall


Organized by
Nomura Center for Lifelong Integrated Education
Saitama Branch of Nomura Center for Lifelong Integrated Education


Supported by
Saitama Prefectural Board of Education
Board of Education of Saitama City
The Saitama Shimbun
Television Saitama Co., Ltd.
Program
Moderator Mrs. Tomomi Yabuki
Opening Remarks
Mrs. Masako Ito
Congratulatory Address
Mr. Kozo Tanaka
Former President, Tokyo Metropolitan Assembly
Tourism Ambassador, Kazo City of Saitama Prefecture
President, The Itabashi Ward Association of People From Saitama Prefecture
DVD Projection
"History of International Forums on Lifelong Integrated Education
--Housewife and International Conference-- Paris and Kihachijo"
Report on Progress in International Activities after
the 10th International Forum
Mrs. Kinuko Tohma
Proposals -- As a global citizen
To know myself through infant education
Mrs. Nami Ishifune
Living in a super-aged society
Mrs. Shigeko Kuroda
As a company person, as a living Person
Mr. Hideaki Shimazaki
Keynote Address

Theme
Lifelong Integrated Education
Education for People Living in a Global Society
--Creating the New Values--


Mrs. Yumiko Kaneko
Director General
Question & Answer Session
Closing Remarks
Mrs. Mihoko Yokosuka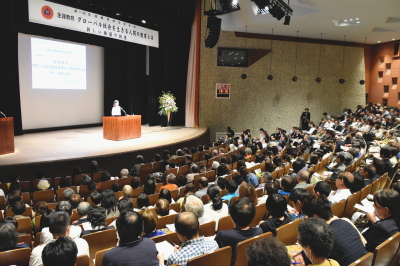 On Sunday, October 1, the 1st Saitama Regional Conference on Lifelong Integrated Education under the theme "Lifelong Integrated Education: Education for People Living in the Global Society--Creating the New Values--"was held at the Saitama Hall.
Mrs. Masako Ito, Chairperson of the steering committee of this conference who is in charge of the Saitama branch, related how she had always been critical of the simple and modest lifestyle of her hardworking parents in a society where priority was placed on economic value. Through her study of Nomura lifelong integrated education, however, she came to realize that her parents' lifestyle reflected the long-nurtured values of the Japanese spirituality and came to appreciate that they had passed this spirituality on to her.
Moreover, every time she witnessed a radical change in the awareness of individual members who ware learning with her at the branch, she felt convinced that a change in sense of value is what people need at this time. With a desire to share this learning with many people, she and branch members visited various places to encourage participation in the conference. As a result, the branch received applications for more participants than the 500-seat capacity hall could hold. To accommodate all of the participants, it was necessary to set up a monitor in a separate room to allow all participants to view the conference proceedings. On the day of the conference, 641 people from all walks of life were in attendance.
A separate program was also arranged for the infant and children on the day, and 38 children from various areas spent an enjoyable day together.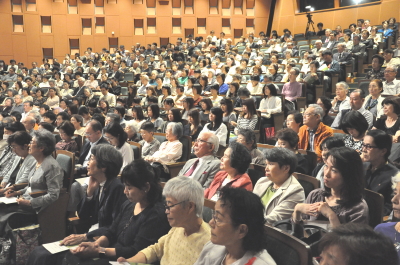 Keynote Address and Q&A Session by D. G. Kaneko and Proposals are reported in our English organ "Nomura Center News No.81"