New Year Message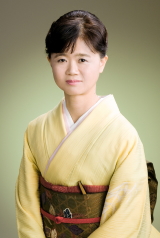 Mrs. Yumiko Kaneko
Director General


I am truly grateful that we are able to get together in this way at the start of this New Year, which cannot be taken for granted given the situation all around the world.
It was a calm New Year's Day and we were even able to pray to the first sunshine of the year. Our country Japan does experience severe challenges of nature, such as the Great East Japan Earthquake, but I felt anew the blessings and benefits that nature bestows on us.
In sharp contrast to the lovely weather we enjoy, with what words can we best express what is happening in our societies and around the world? As the year 2017 opened I was reminded that we are living in an unpredictable world that is becoming increasingly confusing, turbulent and ruthless.
To be honest, I was not sure what I should say to you as we start the first working day in this rapidly changing world of ours.
After some serious thinking I realized that before I can share my thoughts with you I should think how I should live this year as Director General--not as any DG but as the DG of our Center. And that means "how I should live as a human being." I realized in any case I had to think how I personally should be living this year.
So with the thought of meeting you today, I took a look back to the ideas and thoughts that crossed my mind over the New Year.
On the second day of the turn of the year I visited my parents' home where I grew up. This was the first New Year after we lost our mother. My elder sister called me as she has every year, asking me when I would be joining the family. I was really very happy that she called to ask me as she had in other years, because one hears that relations between siblings often suffer and that they are not always welcome back after their parents die.
As I listened to many of you sharing your thoughts for the New Year with us, I realized how valuable it is that we are able to enjoy the precious ties among our families as a result of our learning together. I was truly grateful that I was able, with my husband and our son, to join my sister and her husband to pay a visit to the family tomb near my childhood home.
Also, some of you experienced with gratitude your children's coming of age ceremonies. We too gratefully celebrated that day for our son yesterday. To be honest, during the New Year holidays there were strong words exchanged between my husband and our son. Our twenty-year old son is aware of becoming an adult, but we are conscious of a huge discrepancy between what he thinks and what he does.
I felt that he was trying to accept what he was being told. As parents we thought we should say what we needed to say to our son and should not let ourselves overlook his shortcomings. However, we could not make him understand what we meant. That was left as challenge for us as parents, we thought.
Then, we thought we should develop a new relationship with our son who was now an adult. It led us to talk about how we can become better parents of a twenty-year-old man. I was truly thankful that since they are a father and a son, they could now be frank and share their true feelings. This took us back to our own early years. And it made me realize how immature I was then and how much I was being cared for. It made me feel very grateful.
During this year-end and the beginning of the New Year, I encountered some matters involving assumption, misperception and misunderstanding, that I tried to take them as educational material. It left me feeling confused. And then I realized this confusion arose from my own perception of the matters. This was an opportunity for me to think deeply, through facing up to the matters, how I should cultivate myself and decide to better manage myself. In other words, the New Year holidays were a time of challenge for me.
Then I recalled a line from Goethe's Faust that I found in a certain book in my student days: "Man wanders as long as he strives." I remembered how I read this sentence over and over again when I was a prisoner of my own illness. At that time when one was expected only to produce results, it seemed "a waste of time" to worry. However, these words encouraged me to think it is not at all wasteful to feel lost and discouraged. Sometimes it is even important. They made me feel at ease.
After deep contemplation for how I should live this year, I picked up our Founder's book of collected essays "KOMOREBI - Dappled Sunlight beneath the Trees." As I turned the pages of the book, the first thing that caught my eye was the words of the Founder spoken in 1990. That was the year of the unification of East and West Germany, when the world witnessed a shift from confrontation to harmony and from division to unity. What she said then was at a very different time in our history, almost the opposite of today, but I felt that her words then were also very appropriate today.
One of the points she made was, "The future must be built with unremitting effort. Isn't this what we always aim for in our implementation of the theory of education in our daily life?
We must never pause in our work to create the future we want to see, and seek constantly to educate ourselves from our observation of the world around us. The changes we experience in our lives and our homes must be passed on to our neighbours and the world."
Our Founder also said, "One person alone cannot achieve all this but it has to start with one person. The example and the persuasiveness of each person move the lives of all whom they encounter and the network created in this way will grow into an irresistible force. We should give thought to what true wealth is. I personally do not think we become wealthy by saving for our own ease and comfort." Her words touched me deeply.
She then wrote, "We must seek constantly to educate ourselves from our observation of the world around us." So we must ask ourselves what we can learn from our neighbours and the community we live in. But before that, I told myself, I must examine how I see the world we all inhabit.
For one thing, I am concerned that things are "lopsided." From listening to you I see many are worried about how the world may change when Mr. Trump becomes president of the United States on 20th January.
Many of you have referred to reports in the media that Mr. Trump is promoting anti-establishment policies and embodies a "my-country-first" nationalism. In a sense, it is good to think of the interest of one's country, but it is difficult to accept Mr. Trump's brand of nationalism. I fear his attitude contradicting the establishment policies and his extremely one-sided views.
And it happens to be an "election year" for Europe. In March, Netherlands will have a general election in which it is said the extreme right wing is likely to prevail. And from April to May, France will be electing a new president. This election too is reported to be leaning towards the right. Then in autumn, Germany will have a general election. I am truly concerned that the year 2017 will see the rise and prominence of the right.
Moreover, it is extremely worrisome that there could be a joining of unbalanced views and extremist tendencies, as evinced in of Mr. Trump's constant tweets.
There are many of us, including myself, who are not versed in the world of the Internet, but we need to know what is happening in that world. It seems that modern society is increasingly informed by the simplistic sound bites on Twitter and LINE. Symbolically as is the case of leaders like Mr. Trump and President Duterte, even here in Japan we see the growing prevalence and influence of impactful utterances like this.
And thirdly, I must honestly say that we live in an economy-centered world. As symbolized in the election of Mr. Trump, said to be a businessman and amateur politician, I have to admit that our own economy-centered sense of values is a large factor in making our world what it is today.
All in all, I came to realize that these were pressing issues that I hold as question in the present society.
I wonder if our society demands immediate results and excitement, but there lies the problem.
Now, what is the opposite of being biased? It is simply a balanced view. And what that means for us is to be able to see things in a flexible way, have open-mind and a good sense of balance, and to be fair.
And the opposite of radical is moderate, but the term "radical" means intense and excessive. And its opposite, moderation, calls for being calm and reasonable. I think it also means being mild and steady, and not being extreme.
That to me seems to describe the unchanging world of nature, as I always say, proceeding without fuss from morning to noon, and from noon to night. And that is how we humans also grow, gradually, from being an embryo, through infancy, babyhood, childhood, adolescence, adulthood, old age and the time of death.
To give a familiar example, we know our faces do not become lined overnight. It happens without one being aware of it. "Help! What are these lines here and there...?" Like this, we do not change dramatically for good nor bad. The word "moderation" expresses such world of nature.
Also, in the book "KOMOREBI," our Founder tells us about Confucianism. "To be a dignified person, acquire knowledge, sincerity and honesty and develop a morally sound character, manage one's family, administer the community and bring peace to the land. This means that to be a good ruler, a statesman must base his actions on universal principles, casting aside personal greed, adopting rectitude of mind, developing a morally sound character, making peace in the home administering wisely and bringing peace to his country."
This is exactly what we learn through Nomura Lifelong Integrated Education. We have come to learn the principles of nature and implement them in our daily context of life, apply it within and then beyond our families, and live with conscience in our country and the world.
Listening to what many of you said today I am very much sure that all of you came to feel happiness because you tried to change yourselves to manage your self-centered thoughts in relation to your husbands or within the circle of your friends, and to be able to work with them to understand each other better. Someone said that now she has found her own happiness it is her turn to concern about the community and to listen and understand the pain of others as her own pain.
I constantly renew my gratitude to our Founder for her unremitting patience in bringing out the empathy and compassion buried deep within us all and setting us on the right course. She continues, "In the old days of autocratic government, rulers were expected to be correct. Today under a democratic government, as the sovereignty resides in ourselves, the people, we all have the obligation to live correctly.
In order to realize a peaceful world, each one of us must cultivate upright thought, develop moral character, bring peace to our homes, and be responsible for the direction of the country and the survival of the earth. This awareness is absolutely essential for those of us who live today." She says firmly by unusually using the term "absolutely."
I am afraid that today we have all, including our political leaders, given up living rightly. Some talk of improving people's lives and the country by only taking outward countermeasures, but the most important first step is for each of us to manage ourselves to cultivate virtue and live responsible. I feel very strongly that each one of us must realize that we are able to live up to this responsibility we are entrusted with through our learning. Let us with renewed conviction expand the circle of like-minded and committed people around the world.
When we are with people, we tend to judge them only by their expressed words. But there must be reasons for the thoughts they express. It is difficult, I know, but we must try to understand how they arrive at them. That I think that is where our conscious wish to understand and accept people begins.
Biases give birth to exclusion. Extremism leads to greater extremism and we become increasingly distant from the unhurried tempo of nature. Yes, we need the economy but that alone does not make us satisfied and happy.
The natural world changes because it relates with one another, yet it remains harmonious in itself. But if our contemporary society and the world are becoming increasingly discordant, I believe that only if we live and discipline ourselves according to the law of nature can we find the right way forward.
Our society is made of the merging of the consciousness that each of us brings to it. That is why I say we must educate ourselves from our observation of the world around us. In this way we will influence our communities and ultimately the changing world itself. We should all speak up so that we can share this message with as many people as possible. And if we succeed in enlarging this circle, the world around us will surely become better little by little.
Radical groups appear one after another, but if we can increase the numbers of people who will appreciate and be grateful for the small changes brought about by our steady down-to-earth efforts, we will be sharing important values with them and influence them in a positive way by example without rebelling against and beating the other side. Having said that, I think we are still not sufficiently observing the world around us to face the reality.
Radical thought and behavior do attract some people, but continuous effort rarely draws attention. Quite apart from drawing attention, I would like our challenge for the year 2017 to be for us to value the way we live our lives resolutely, based on sound moral values. As the new year begins I want us all to take to heart, knowing how important it is for us to continue in our Founder's footsteps--one step at a time.
Thank you.

(From New Year Message on Jan. 10, 2017)