The 6th Nagano Regional Conference on Lifelong Integrated Education
Commemorating the 50th anniversary of the foundation of Nomura Center

Lifelong Integrated Education
Education Excels Everything
- In search of the true purpose of education -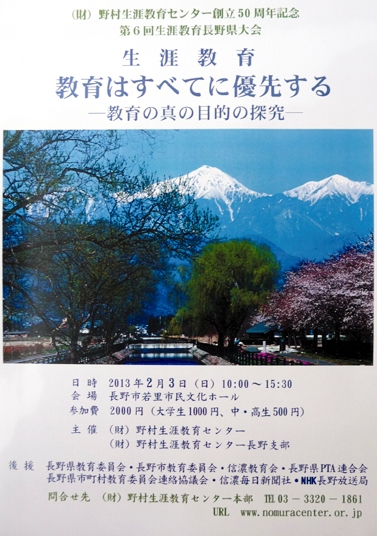 The poster of the Conference:
Nagano City with the view of the Japan North Alps


Sunday February 3, 2013

Venue
Wakasato Municipal Cultural Hall, Nagano City


Organized by
Nomura Center for Lifelong Integrated Education
Nagano Branch of Nomura Center for Lifelong Integrated Education


Supported by
Nagano Board of Education
Board of Education of City of Nagano
Sinano Education Association
Council of Municipalities Board of Education in Nagano Prefecture
PTA Union of Nagano Prefecture
The Shinano Mainichi Shimbun
Nagano Station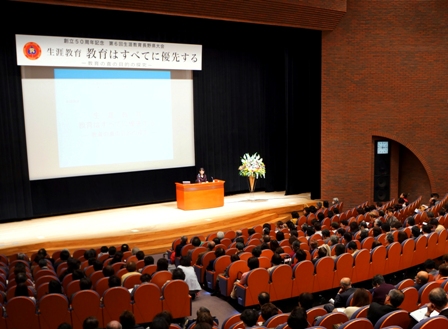 Program
Moderator Mrs. Etuko Kiyamazawa
Opening
Opening Remarks
Mrs. Fusako Miyasaka
Congratulatory Addresses
Mr. Seiichi Abe
Director of Cultural Properties and Lifelong Learning Division, Nagano Prefecture
Mr. Masaaki nakamura
Vice Director, Board of Education, City of Nagano
Video film
"The Commemorative Ceremony and Celebration of the 50th Anniversary of the Foundation - Nomura Lifelong Integrated Education Its demonstration for five decades"
Proposals
Restoring the bonds of family
Mrs. Ryoko Satta
In the link of lives
Mrs. Maiko Hatano
As a corporate parson, as a citizen
Mr. Hideo Takata
Living in a superannuated society
Mrs. Takako Maruta
Keynote Address

Theme
Lifelong Integrated Education
Education Excels Everything
- In search of the true purpose of education -


Mrs. Yumiko Kaneko
Director General
Question & Answer Session
Closing Remarks
Mrs. Miyoko Ishii
Closing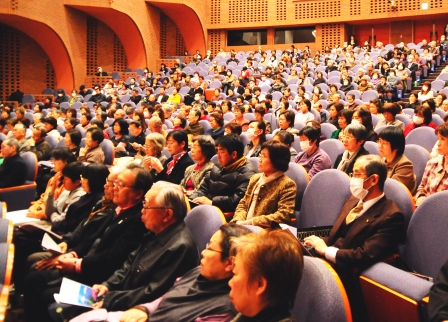 On February 3 (Sun), the 6th Nagano Regional Conference on Lifelong Integrated Education was held under the theme "Lifelong Integrated education: Education Excels Everything-In search of the true purpose of education- at the Wakasato Municipal Cultural Hall, Nagano City. The event also marked the commemoration of the 50th anniversary of the foundation of the Nomura center for Lifelong Integrated Education.
In the aftermath of the Great East Japan Earthquake and Fukushima Daiichi nuclear power plant accident, members of the Nagano branch tool a hard look at the way they lived since then. Furthermore, since they had the chance to listen to the Director General Mrs. Kaneko's New Year message for 2012, they felt strongly that they should not live in a business as usual manner. They decided to have the courage to challenge the way they live in this critical time. A request, therefore, was made to the Board of Directors to hold a regional conference. After the request was heard, all the members of the branch gave thought and talked over the theme of the conference and its aspirations, which were duly endorsed by the Board. With the announcement of the conference, members wasted no time on effort to solicit attendance from every corner of the prefecture.
From the extremely hot season to the cold weather, and to the last minute of the day, members visited as many people as possible and were encouraged by faithful, and sincere responses they received and by a sense of connectedness. With gratitude and delight we were ready for the day.
On the day of the conference, the place was filled with more than 500 attendants from Nagano Prefecture as well as from the rest of the country. The attendants shared the day engaged in passionate discussion in quest of the real purpose of education against the background of challenging circumstances.
Keynote Address and Q&A Session by D. G. Kaneko and four Proposals are reported in our English organ "Nomura Center News No.66". (200 Japanese Yen/copy)