Commemorating the 30th anniversary of Nagano Branch
Nagano Regional Conference on Lifelong Integrated Education
Lifelong Integrated Education
What should we be doing now?
- For the children of the future

Sunday March 19, 2006


Venue
Wakasato Hall


Organized by
Nomura Center for Lifelong Integrated Education
Nagano Branch of Nomura Center for Lifelong Integrated Education


Supported by
Nagano Prefectural Board of Education
Board of Education of Nagano City
Sinano Education Association
Council of Municipalities Board of Education in Nagano Prefecture
PTA Union of Nagano Prefecture
Nagano Station
The Shinano Mainichi Shimbun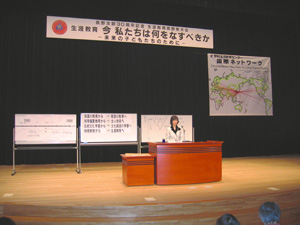 Programme
Moderator Mrs. Yukiko Watanabe
Opening
Opening Remarks
Mrs. Fusako Miyasaka
Congratulatory Addresses
Mr. Akira Maruyama
Superintendent of Education for Nagano Prefecture
Mr. Mutsuhide Tateiwa
Superintendent of Education for Nagano City
Video film
"Commemorating the 40th Anniversary of Foundation - The 8th International Forum on Lifelong Integrated Education"
Personal Reports on Practicing
the Principles of Nomura Lifelong Integrated Education
What it means to be yourself
Miss Kaori Yanagisawa
Facing up to the gravity of life
Mrs. Etuko Kiyamazawa
Toward the meaningful life of old age
Mrs. Syouko Muramatsu
Finding a path that enables me to live in a competitive society
Mr. Masaki Suhara
Keynote Address

Theme
Lifelong Integrated Education
What should we be doing now?
- For the children of the future


Mrs. Yumiko Kaneko
Director General
Question & Answer Session
Closing Remarks
Mrs. Takako Maruta
Closing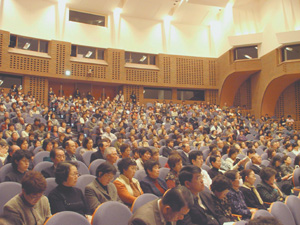 The Nagano Regional Conference on Lifelong Integrated Education, commemorating the 30th anniversary of Nagano Branch, was held in the Wakasato Hall in Nagano City, Nagano Prefecture on Sunday March 19, 2006.
The conference theme was "Lifelong Integrated Education: What should we be doing now? - For the children of the future".
Nagano Branch which started out as Nagano Chapter of Nomura Center in 1975 convened its first Regional Conference in 1982. Since then it has hosted four regional conferences.
Founding Director General Mrs. Yoshiko Nomura had deep feelings for Nagano which has been known as the "education prefecture". From the early days there were numerous requests from Nagano Prefecture to the Center, and as if in mutual response, Mrs. Nomura gave as many as seventeen speeches in Nagano.
This was the first conference convened by this branch under the leadership of Director General Mrs. Yumiko Kaneko and also the first conference since the post-war generation has succeeded to the branch chief. With the understanding and cooperation of their families, branch members devoted themselves energetically to soliciting participants, right throughout the punishing summer heat and the heavy winter snowfalls.
The result was positive, there was prominent participation from government and political circles and on the day, 650 attendees from all walks of life filled the hall.
At the opening ceremony, Mrs. Fusako Miyasaka, Chair of the Conference Steering Committee made opening remarks followed by congratulatory addresses by Mr. Akira Maruyama, Superintendent of Education for Nagano Prefecture and Mr. Mutsuhide Tateiwa, Superintendent of Education for Nagano City.
Keynote Address and Q&A Session by D. G. Kaneko and four Personal Reports are reported in our English organ "Nomura Center News No.40". (200 Japanese Yen/copy)