The 13th Miyazaki Regional Conference on Lifelong Integrated Education
commemorating the 40th anniversary of the Miyazaki Branch
Lifelong Integrated Education
Creating New Values
-For the Children in the Future-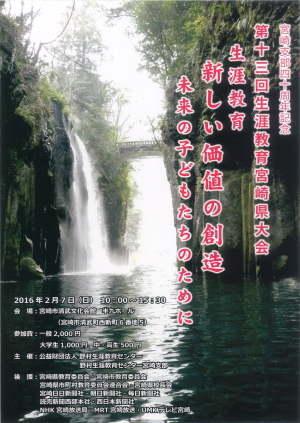 The poster of the Conference


Sunday, February 7, 2016


Venue
Hankyu Hall, Cultural Arts Center of Kiyotake, Miyazaki City


Organized by
Nomura Center for Lifelong Integrated Education
Miyazaki Branch of Nomura Center for Lifelong Integrated Education


Supported by
Miyazaki Prefectural Board of Education / Board of Education of Miyazaki City / Council of Municipalities Board of Education in Miyazaki / Association of Principals in Miyazaki Prefecture / Miyazaki Nichinichi Shimbunsha / The Asahi Shimbun / The Mainichi Newspapers Co., Ltd / The Yomiuri Shimbun Seibu / The Nishinippon Shimbun Co., Ltd / NHK Miyazaki Station / Miyazaki Radio & Television (MRT) / Miyazaki Telecasting Co., Ltd
Program
Moderator Mrs. Kyoko Ogawa
Opening Remarks
Mrs. Chiyoko Ayabe
Congratulatory Addresses
Mr. Hiroshi Tobita
Superintendent of the Miyazaki Prefectural Board of Education
Mr. Takashi Matsuno
Representative, Board of Education, City of Miyazaki
DVD Projection
"History of Nomura Center for Lifelong Integrated Education"
Reflecting on the 40-year history of the Miyazaki Branch
Mrs. Hisako Yano
Proposals
Family-Bond between husband and wife
Mrs. Mizuyo Akagi
Scars of war I experienced in my childhood
Mrs. Machiko Hino
Values I confirmed at the International Forum
Mrs. Masako Ito
Keynote Address

Theme
Lifelong Integrated Education
Creating New Values
-For the Children in the Future-

Mrs. Yumiko Kaneko
Director General
Question & Answer Session
Closing Remarks
Mrs. Michiyo Suyama
On Sunday, February 7, the 13th Miyazaki Regional Conference on Lifelong Integrated Education was held on the theme "Lifelong Integrated Education Creating New Values -For the Children in the Future-" at the Hankyu Hall, Cultural Arts Center of Kiyotake in Miyazaki City to commemorate the 40th anniversary of the Miyazaki Branch. The conference attracted 403 attendants representing all walks of life.
Miyazaki Branch chief Mrs. Hisako Yano, who has been studying the Nomura Lifelong Integrated Education since the establishment of the branch, had aspirations of passing on the values she learned through this philosophy to the next generation based on her own experience of learning about human dignity and regaining her self-respect. Concurring with Mrs. Yano's aspiration, Director General Mrs. Yumiko Kaneko affirmed the importance of the task of passing on these values to the next generation and gave her support in holding the conference.
As the branch members prepared for the conference, they became acutely aware of the reality that they tended to rely heavily on directors in charge during their preparation of conferences despite accumulating experience in already holding their regional conference 12 times previously. In the course of preparation, they learned to develop themselves to become a responsible person.
At the opening ceremony, Mrs. Chiyoko Ayabe, chairperson of steering committee stated, "With the understanding that we are the people whose consciousness and values are shaping today's society and era, at this conference we would like to reflect on what we should value and what we should attach importance to."
In tandem with the general program, activities were also organized for the Division of Infant Education, and the children who gathered from in-and-out of Miyazaki spent an enjoyable day together.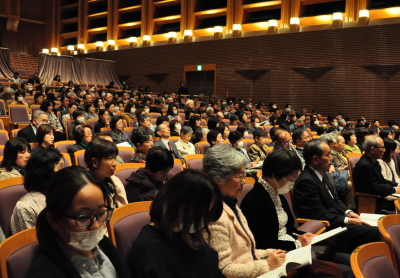 Keynote Address and Q&A Session by D. G. Kaneko and Proposals etc. are reported in our English organ "Nomura Center News No.77"