Miyazaki Regional Conference on Lifelong Integrated Education

Saturday December 3, 2005


Venue
JA-AZM Hall


Organized by
Nomura Center for Lifelong Integrated Education
Miyazaki Branch of Nomura Center for Lifelong Integrated Education


Supported by
Miyazaki Prefectural Assembly, Miyazaki Prefectural Board of Education, Council of Municipalities Board of Education in Miyazaki Prefecture, Federation of Principals of Miyazaki Prefecture, NPO Miyazaki Prefecture Volunteer Association, The Miyanichi, The Asahi Shimbun, The Mainichi Newspapers, Yomiuri Shimbun Miyazaki Bureau, The Nishinippon, The Yukan Daily, Miyazaki Station, Miyazaki Radio & Television, Miyazaki Telecasting Co. Ltd, Miyazaki Cable TV Network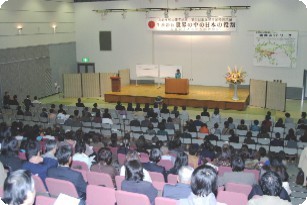 Programme
Moderator: Mrs. Michiyo Suyama
Opening
Opening Remarks
Mrs. Hisako Yano
Congratulatory Addresses
Mr. Kokichi Takayama
Superintendent of Education of Miyazaki Prefecture
Mr. Shigemitsu Tsumura
Mayor of Miyazaki City
Video film
"Commemorating the 40th Anniversary of Foundation - The 8th International Forum on Lifelong Integrated Education"


Recommendations
Establishing an individual in a global community
Mrs. Kyoko Ogawa
Toward a new family image
Mrs. Setsuko Yanagida
Japan seen from India
Mrs. Yedla Naoko Simhadri
Creating peace rooted in harmonious relationship of family, transcending nation, race and history
Mrs. Yumiko Tamatani
Keynote Address

Theme
Lifelong Integrated Education
Role of Japan in the World
- For the future of our children
Mrs. Yumiko Kaneko
Director General
Question & Answer Session
Closing Remarks
Mrs. Machiko Hino
Closing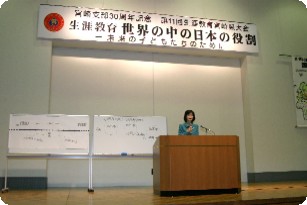 The 11th Miyazaki Regional Conference on Lifelong Integrated Education commemorating the 30th anniversary of Miyazaki Branch took place at the JA-AZM Hall on Saturday 3 December 2005.
The conference theme was "Lifelong Integrated Education: Role of Japan in the World - For the future of our children".
Since the first regional conference was held in 1975, Miyazaki Branch has convened ten regional conferences in major cities throughout the prefecture. Founding Director General Mrs. Yoshiko Nomura attended all those conferences and gave the keynote address at each. This year marking the 30th anniversary of Miyazaki Branch's establishment, the conference under a new Director General Mrs. Yumiko Kaneko holds symbolic significance as a link from the founder to the next generation.
Responding to vigorous urging by the branch members to attend, the hall was filled with some 430 participants from all walks of life, from local prefectural educational circles, politics, government and industry, mass media and students.
At the opening ceremony, Mrs. Hisako Yano, the Chair of the Conference Steering Committee, offered some opening remarks followed by the reading out of a message from Mr. Kokichi Takayama, Superintendent of Education of Miyazaki Prefecture, and a congratulatory address by Mr. Shigemitsu Tsumura, Mayor of Miyazaki City. Also present on the stage was Mr. Yasuo Naito, Superintendent of Education of the Miyazaki City.
The Children and Infant Division spent an enjoyable day holding their own program in parallel with the main conference.
Keynote Address and Q&A Session by D. G. Kaneko and four Recommendations are reported in our English organ "Nomura Center News No.39". (200 Japanese Yen/copy)