The 2nd Gunma Regional Conference on Lifelong Integrated Education
Lifelong Integrated Education
Origin of Education Origin of Human Beings
- What is demanded on us today? -

Saturday, December 1, 2007


Venue
Maebashi Municipal Cultural Hall


Organized by
Nomura Center for Lifelong Integrated Education
Gunma Branch of Nomura Center for Lifelong Integrated Education


Supported by
Gunma Prefectural Board of Education
Board of Education of Maebashi City
Maebashi Station
Gunma Television Co., Ltd.
JOMO NEWSPAPER CO., LTD.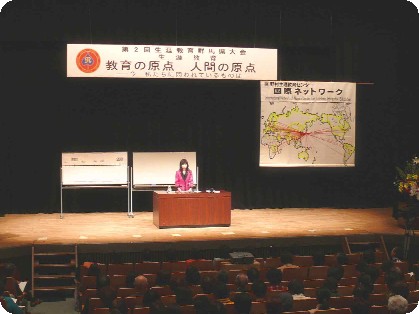 Programme
Moderator Mrs. Katsue Fukazawa
Opening
Opening Remarks
Mrs. Michiyo Sano
Congratulatory Addresses
Mr. Masahiro Uchiyama
Superintendent of Education for Gunma Prefecture
Mr. Masao Takagi
Mayor of Maebashi City
Video film
"The 9th International Forum on Lifelong Integrated Education"
Personal Reports on Practicing
the Principles of Nomura Lifelong Integrated Education
Viewpoint of infant education
Mrs. Kyoko Watanabe
Viewpoint of a youth
Mr. Junichi Matsunaga
Viewpoint of a family
Mrs. Junko Kobayashi
Viewpoint of business circles
Mr. Shuntaro Nishida
Keynote Address

Theme
Lifelong Integrated Education
Origin of Education Origin of Human Beings
- What is demanded on us today? -


Mrs. Yumiko Kaneko
Director General
Question & Answer Session
Closing Remarks
Mrs. Kumiko Matsunaga
Closing
On December 1 (Sat.), 2007, the "2nd Gunma Regional Conference on Lifelong Integrated Education" was held at Maebashi Municipal Cultural Hall in Maebashi City.
The theme of the conference was "lifelong Integrated Education: Origin of Education Origin of Human Beings - What is demanded on us today?-" This was the first conference held in Gunma Prefecture in 31 years, since 1976. Under the guidance of Director General Mrs. Yumiko Kaneko, younger-generation members of the Gunma Branch served as the organizers. It was mainly these members, with no experience of the previous conference, who asked that this one be held. The period leading up to the conference was thus truly one of educational work. During this preparatory period, the director in charge visited Gunma several times, conducting detailed efforts so that this younger generation, with its strong sense of relative values and its weal sense of order, would not lose harmony with its families and community amid all the activity.
As a result, about 600 people from all walks of life and all strata of society filled the hall. Among them were 23 prefectural assembly members, city mayors, town mayors and city council members, including Mr. Masahiro Uchiyama, Superintendent of Education of Gunma Prefecture and Mr. Masao Takagi, Mayor of Maebashi City, who both delivered congratulatory addresses.
In the speeches and other activities conducted in various settings on this day, one could distinctly perceive the high level of educational awareness in this prefecture, which in 1984 was the first to declare "The Inaugural Year of Lifelong Integrated Education" and invite Founding Director General Mrs. Yoshiko Nomura to visit to make a commemorative speech. Involving the families and relatives of members as well as many dignitaries, this was truly a conference that represented the entire region.

Keynote Address and Q&A Session by D. G. Kaneko and four Personal Reports are reported in our English organ "Nomura Center News No.47". (200 Japanese Yen/copy)