Miss Nirmala Deshpande, Member of the Indian Parliament,
and Director General Kaneko meet for an Informal Discussion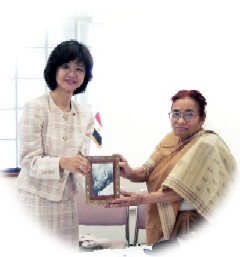 On May 11 (Wed.), Prof. Yedla C. Simhadri of the Indian Branch and Mrs. Yedla Naoko Simhadri, Chief of the Indian Branch, arrived in Japan. Their 10-day stay was very intensive as they visited the grave of Founding Director General Yoshiko Nomura, participated in the National Course, and had meetings with Director General Yumiko Kaneko and the Board Members to discuss the future activities of the Indian Branch.
Their stay coincided with the stay in Japan of Miss Nirmala Deshpande, whom Prof. Simhadri met for the first time when he was Vice-Chancellor of Benares Hindu University and whom he had since come to respect. When Prof. Simhadri said he wanted to introduce Miss Deshpande to D. G. Kaneko, the meeting between the two became a reality.
Miss Deshpande, who will turn 76 this year, has for many years been energetically promoting Gandhism for building a new society based on nonviolence and peace movement in and outside India. Meanwhile, she served for two terms as one of 12 members of the Indian Parliament nominated by the President of the Parliament.
In 1952, she began participating in Bhoodan (gift of the land) Yatra Movement of Vinoba Bhave, who was respected as the spiritual successor of Mahatma Gandhi, and joined a march of 40,000 kilometers in India to receive land gifts and distribute the donated land to the poor. She later promoted Satyagraha (grasp of truth) Movement, advocating the rights of the poor. The movement developed into the nonviolence movement in India. Today, her organization supports several thousand activists.
As Director of the Association of Peace Training Institute, she is also involved in a wide range of issues in and out of India, including Kashmir, Tibet, Indo-Pak Soldiers' Initiatives for Peace, and assistance for Myanmarese refugees.
She was in Japan to attend a party for the 88th birthday of her longtime friend in Japan's Buddhist community and to gain the understanding of Japanese friends in two large projects she was undertaking.
One of the projects was the reconstruction of buildings in a Gandhi Ashram that Mahatma Gandhi built 70 years ago. It was planned to construct an international center for peace and nonviolence, an interfaith center for prayers, and a youth center for nonviolence.
The other project was the 2,550th anniversary of the passing away of Buddha next year. There will be a large Buddhist Memorial Service and Conference to appreciate the virtue of Buddha who taught wisdom to humankind. The reconstruction of Nalanda University, the world's oldest Buddhist university and now a historic site, was also planned. Miss Deshpande is the chairperson of the Anniversary Committee.
"I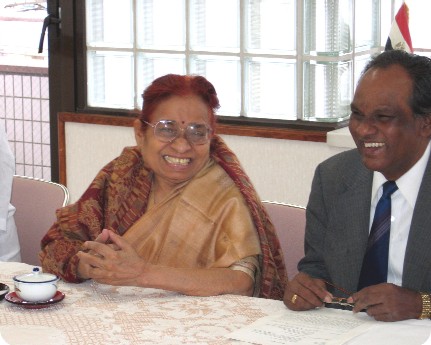 am very thankful to you for inviting me here. I extended my stay one day,"she said and continued, "as I read your brochure I was pleasantly surprised to see that a young lady like you has been in charge of all these activities and was very eager to see you."
A video of the Center was then presented. After the video presentation, Director General Kaneko began by asking: "You are very gentle and have a very friendly atmosphere. But where do you get the energy to carry on such a wide range of projects? What motivates you in your activities?"
"I would say that it is God's grace that I can do something in this world and the source of inspiration also comes from the devotion to the lord. Philosophy of Mahatma Gandhi and Vinoba Bhave is sustaining me. Whatever God wants one to do is done through you. You are an instrument in the highness of God. All are designed by, what one can say, divine force. In my life I find that of course there are problems and difficulties that come in everybody's life. But somehow, God takes care of you."
"Director General Nomura used to say, 'I don't quite understand why I started involving myself in these activities. The only impression is that something guided me to do these work,'" D. G. Kaneko responded. "I thought that this meeting was also guided by something."

Lunch was then served. Members of the Center prepared homemade dishes for Miss Deshpande, a vegetarian. She was delighted and said she could feel the love of the ones who prepared the meal.
During lunch time, one Director talked about the Division of Infant Education. She introduced one of its practical case showing the importance of adults' consciousness: when children fight, adults or mothers do not teach children not to fight, but take it as the issue of adults' learning materials for self inspection and self education. In accordance with adults taking initiatives to change oneself, children also change themselves in a positive way. Miss Deshpande spoke about the importance of adults' involvement in children. She said, "There are incidences of adults teaching the concept of 'enemy' to children who have no idea what an enemy is and of a religious father shouting at his wife, which give a sense of contradiction to children."
"We at the Center learn that 'education of children should always be accompanied by the self-education of the parent'," said Director General Kaneko, "and we are trying to change the conventional views on education. Of course, parents have to teach their children, but the attitude of learning from children is also necessary."
Asked about the awareness of Indian youth on the peace movement by Director General Kaneko, Miss Deshpande replied, "For young people who have different kinds of problems, it is important that we take an appropriate approach that can be understood by young people."
"When we talk to children about the dignity of life based on the Principles of Nomura lifelong integrated education," Director General Kaneko responded, "They listen with pureness of their heart and understand how valuable and precious their existence and lives are. I think children listen not when we tell them what to do, but when we talk about the essential way of truth."
Miss Deshpande then put the following question: "In India, the sense of values that has been passed down the generations throughout the long history is changing due to the rapid change in society. The extended family system is also beginning to change. How do you perceive the aging issue in Japan?"
To this question, one of the Directors replied by giving a concrete example: "One member used to say it is such a hard work taking care of his old mother. But when he learned about the continuity of life in Nomura lifelong integrated education, he began to say, "I felt the inseparable bond between my mother and me. I am very fortunate to be able to look after my dear mother.'"
"I think the issue of aging nowadays is a very difficult issue that humankind has never experienced before,"Director General Kaneko added. "At a time when the life was impossible to sustain without cooperating together or collecting the power of each member in a large family and community, it was easier to share a common background. But as the rapid progress of science and technology has made it possible for people to live alone, there is less to share."
"The advancement of medical care is contributing to aging, and with a decline in the birth rate, the number of people who can look after older people is rapidly decreasing. The issue of aging has direct effect on our future."
"Director General Nomura taught us to look at this problem by understanding the historical context."
"She was always considerate of children and seniors. As a result, our members in the Senior Citizens Division are always full of energy and are eager to learn about themselves from everything. We younger people are always respectful of them."
Lastly, Miss Deshpande said, "I was surprised to find that you are involved in these wonderful activities. I clearly see that you are giving valuable hope to this world in this age."
"I am sincerely grateful,"replied Director General Kaneko, "of being given an opportunity to share a common objective with you who promote the peace movement in India and other parts of the world."
With this, the meeting was concluded.